SERVICIO CERTIFICADO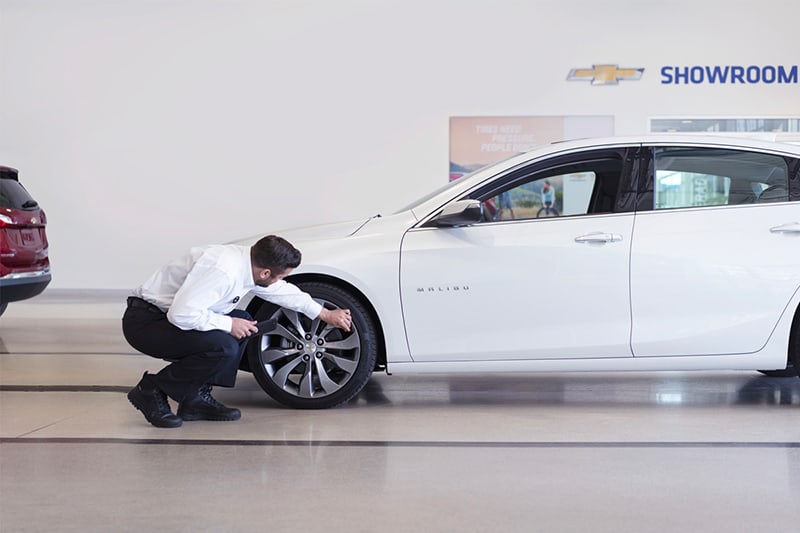 SERVICIO CERTIFICADO
Ofrecemos precios competitivos en servicios de vehículos populares como cambios de aceite, frenos y neumáticos.
MANTENIMIENTO
¿Necesita Neumáticos Nuevos?
"Los neumáticos de su vehículo son el primer y único contacto con la carretera, por eso es importante elegir el juego correcto al reemplazarlos. Speck Chevrolet of Prosser tiene expertos en servicio certificados que se encargarán de todas las necesidades de sus neumáticos. Desde revisar el desgaste hasta la presión de los neumáticos, nuestro equipo pude ayudarle a encontrar nuevos neumáticos para su vehículo. "
Encontrar neumáticos
¿Necesita un Cambio de Aceite Cerca de ??
"Probablemente su vehículo está intentando decirle algo; los sistemas de monitoreo de la vida útil del aceite le informan cuando es tiempo de un cambio de aceite. Y nuestros expertos en servicio certificados pueden recomendarle lo que es mejor para su vehículo. Programar una cita hoy. "
Más información
Inspección de puntos múltiples del vehículo
Con nuestra inspección de puntos múltiples del vehículo, usted obtiene una evaluación minuciosa de su vehículo por parte de expertos en servicio certificados. Así que protéjase usted y a su inversión automotriz con una inspección amplia de su vehículo en su concesionario Speck Chevrolet of Prosser hoy mismo.
El formulario de inspección de vehículos de puntos múltiples utiliza un código simple de colores para evaluar términos de mantenimiento:
El rojo indica elementos que necesitan atención inmediata.
El amarillo indica elementos que deberían atenderse en un futuro inmediato.
El verde indica que no hay elementos por atender.
¿ESCUCHA RUIDO EN LOS FRENOS?
La potencia de frenado es crucial para una experiencia de conducción segura y exitosa. Cuando necesite servicio de frenos, visite Speck Chevrolet of Prosser y nuestros expertos en servicio certificados GM le recomendarán nuevos frenos de calidad.
Más información
¿PROBLEMAS CON LA BATERÍA?
La batería de su vehículo suministra energía para arrancar el motor, además de energía para los accesorios cuando el motor no está operando. El frío del invierno y el calor del verano pueden afectar la batería de su automóvil. Visítenos para suplir las necesidades de la batería de su vehículo.
Más información
CONTACTO DE SERVICIO
Servicio: (888) 342-2899
Partes: (509) 786-2666
314 Sixth Street, Prosser, WA 99350